Head Start Music Mela – A Journey You Would Never Wish to End!
A report on the HSEA Music Mela 2015
by Aditya N Das (a parent)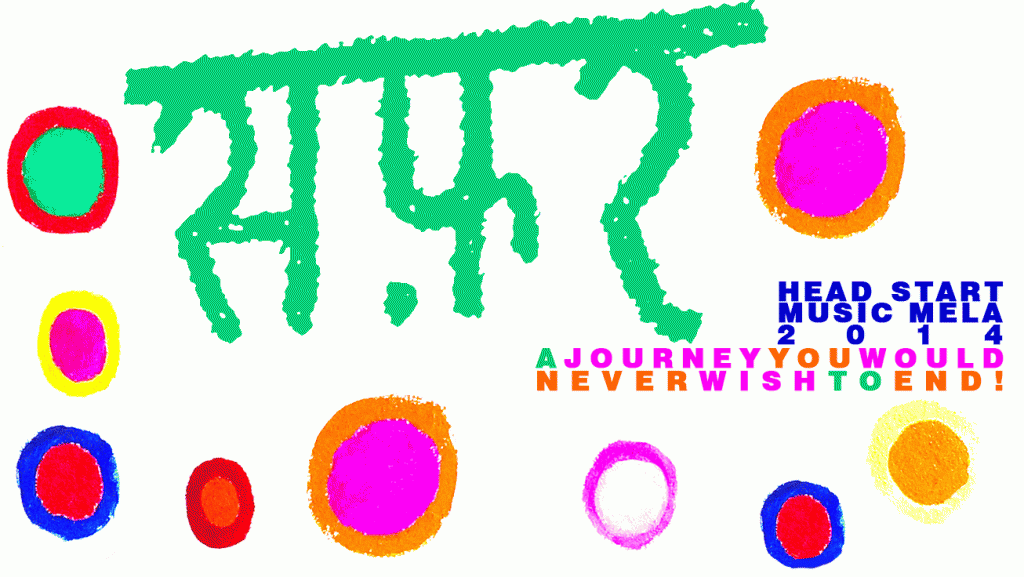 Head Start, after a year of hiatus in its musical events for parents, is back…and is BACK with a BANG! Christened as Safar, it both literally and physically takes you through a captivating journey (Suron ka Safar) for over 4 hours and across 7 venues within the school premises in their charming environs at Sarjapur Road campus.  While it will be prudent to let everyone judge for themselves on the quality of the programme – for me - five things stand out in this adroitly stringed and meticulously planned musical journey.
It's not easy to have 15+ instruments (sometimes across 10 instrument types)  and 15+ kids (including the Grade Is and IIs) on stage and play live music, all original compositions and without a song to allude to.  It's extremely bold - both in concept and execution and must have required enormous amounts of both grooming and synchronization efforts. What is surprising is that while many a times the composers for a segment are understandably edgy - the little ones did it with aplomb - and that too twice in one night! I guess somewhere the years of grounding in the Montessori Philosophy and Head Start's values of independence, originality and team-spirit have a large role to make this look natural.
The second thing standing out is the inclusivity. I understand the Mela has deliberately been spread across three days to ensure all students across all grades go on stage and perform twice - at least on one of the days. Don't be surprised if tears swell up in your eyes, without you even realising, as you see special children not only sharing the stage but also performing with such a careless ease!
To have parents, in two groups go through seven venues and the 3 sections of art on display would be a challenge even to plan on paper – and so - to get students to manage this coordination – including managing the "on ground – on the day" emergent issues - is something you must pause to take note of and  applaud. To top it all students are even coordinating the kitchen and catering – end to end - for the three days!
Now a word on the art on display. I am given to understand the 50+ models, 100+ tile paintings and 400+ pieces of art on paper on the concept of "Journey" have been conceived and executed in the last 7 days or so. While, as parents, we have been exposed to the singular skills of Head Start children in arts for a long time now (and some of us like me probably have started taking it for granted!) – one would do well to take note of the fact that all of these have been done while ALL of them were also going through the grind for the Music Mela!
I would like to sign off with a specific mention of the Hindustani Classical performance – one of the seven segments of the Safar. While all seven performances stand out with the sheer originality, coordination and poise, the Hindustani Classical team pretty much hits the ball out of the park. Sitting in the small quadrangle, the kids with their 20 minutes of rendition of alankar, dhrupad, kheyal and tarana transcends you to a different world……. Words fall short…. It's pure magic!
Samina Aunty and Riad sit through the programmes – pretty much like one of us, enjoying the show even as an event of this scale and impact unfolds - I guess - speaks volumes of the leadership and processes that have been institutionalized by them that seem to have put it all on a cruise mode!
It will be inadequate if I don't mention the excellent team of teachers who manage the backend stuff for a smooth run all through….without pining for the limelight. As Riad said it's not easy being educators!
For all those who think I am trying to say that everything was picture perfect on Day One…let me clarify…the event does have its share of holes to be plugged – but for an institution in its 10th year of existence – the originality of the musical concepts, scale of execution and the richness of musical canvas do leave you overwhelmed…
A huge "KUDOS" and a BIG thank you to Sutirth and his team for this superlative effort…I wish you and your team had got a chance to take a bow ……. And we could have clapped till our hands ached!