Introduction
Senior year of high school brought with it a series of 'lasts'- one of them being our last field trip as a grade. It was as easy coming to terms with this as it was planning for the trip itself. Leh, Ladakh was entirely new to us, both faculty and students alike. But despite the initial setbacks and hurdles during preparations, we were glad that so many of us could make it on the trip. The environment was challenging, the scenery incredible and the people extremely welcoming, but above all were the little memories, we believe, we'll hold dear for years to come.
At the risk of losing them to time, we've decided to pen them down.
Across the country- three thousand kilometres and two flights away from home- this was our time in Leh, Ladakh…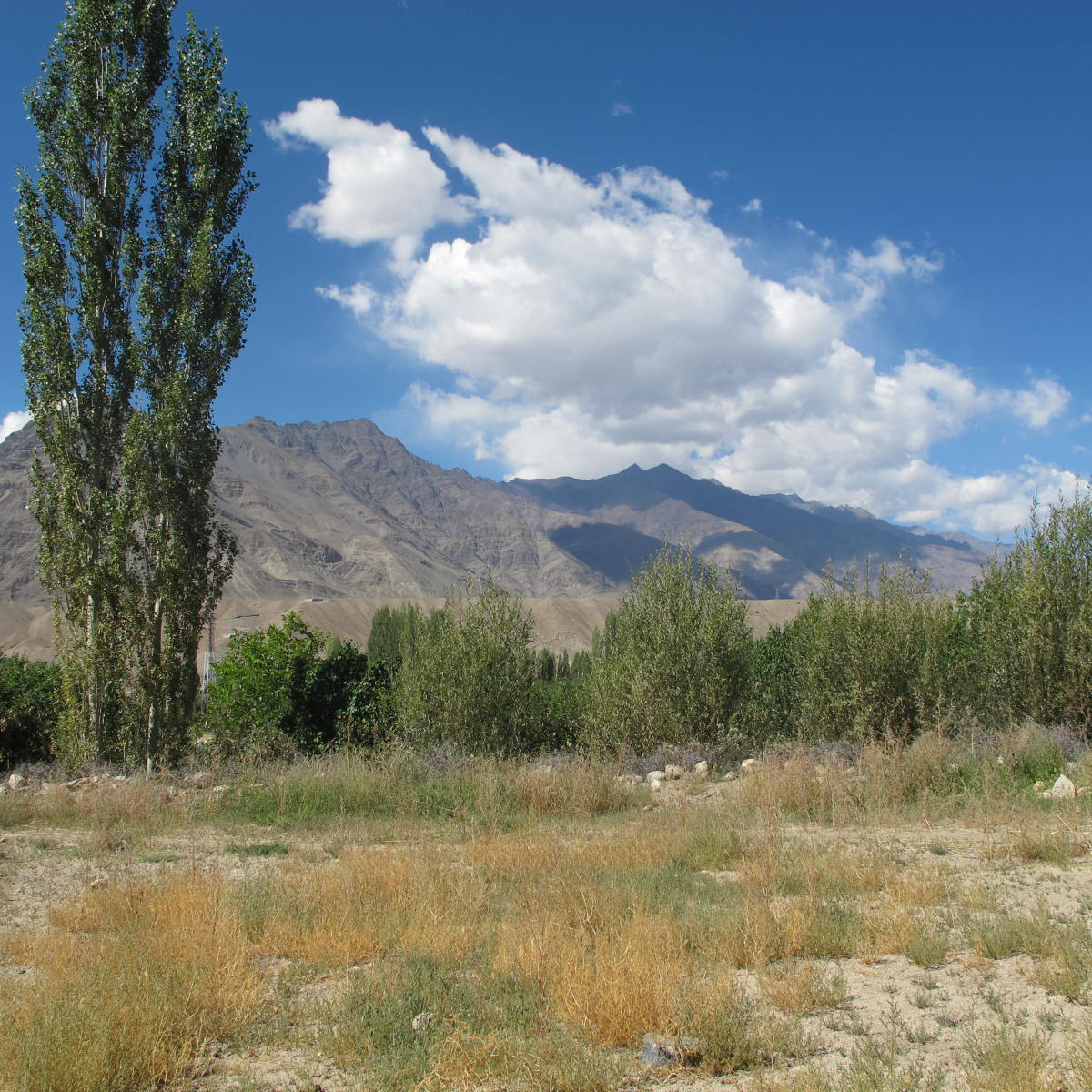 Terrain
The mountain range that featured an array of earthy reds and ochres greeted us at every corner of Leh. Each mountain was unique; every slope, crack and crevice moulded the personality of the mountain - a reflection of hundreds of years of interaction with the surrounding nature.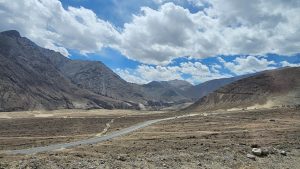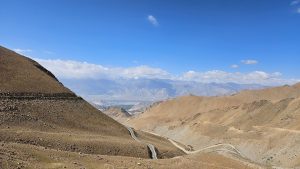 We watched a breathtaking sunset together during our visit to the sand dunes where a few rode camels, some played a game of frisbee and the rest sat on mounds while taking in the view.
Our paths through villages were filled with lush greenery, plants like buckwheat and vibrant flowers, apricot trees and apple trees which many of us plucked fruit from for a spontaneous, refreshing snack.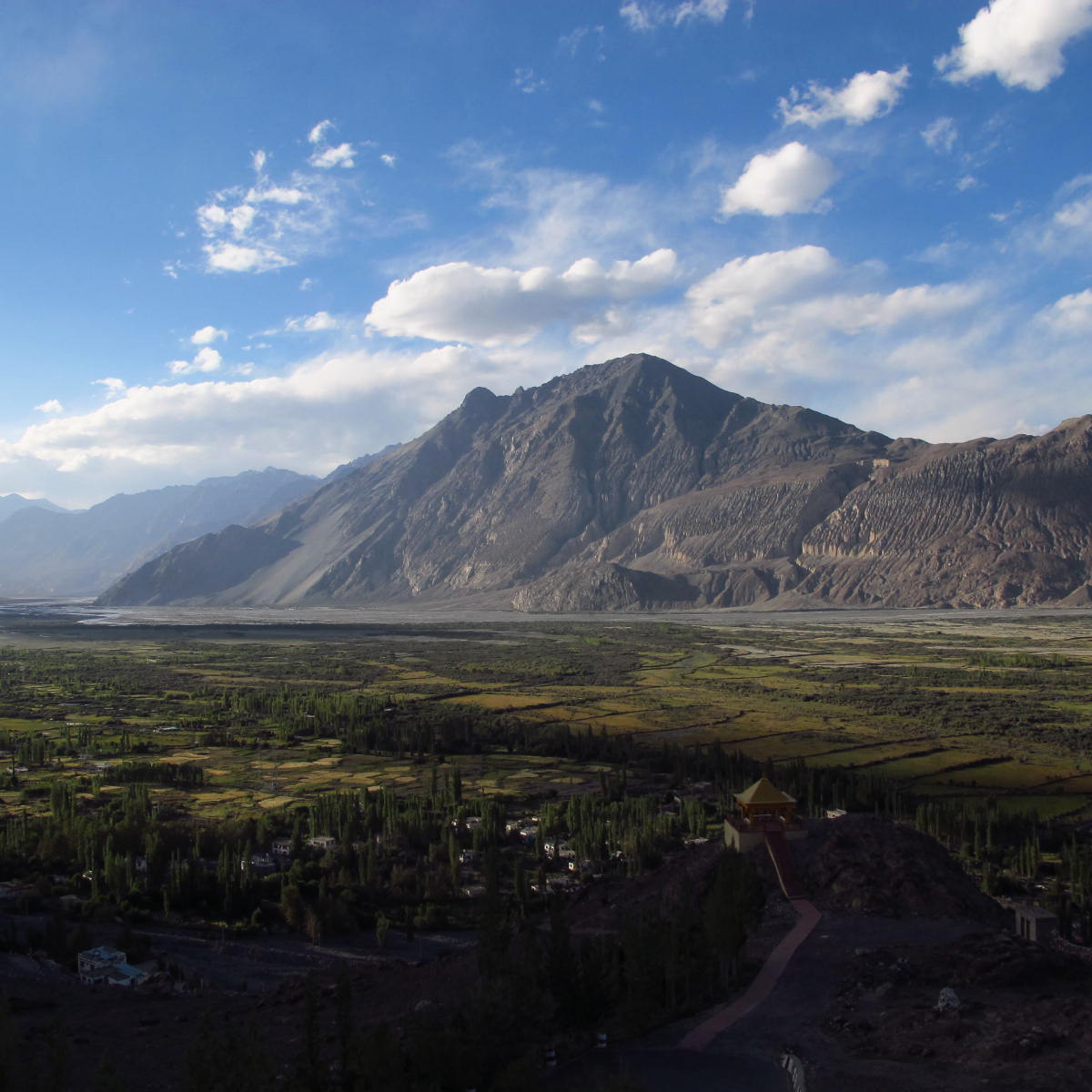 During the course of our excursion, we visited the confluence of the Indus and Zanskar rivers, known as the Sangam. We sat united as a group, surrounded by bumblebees and plants, and quietly observed the rhythm and flow of the two rivers. Over the course of our early morning walk, we crafted bouquets with nearby flowers and plants and filled our bottles with cold refreshing water from a creek nearby.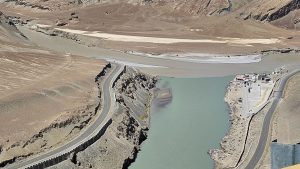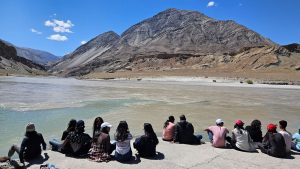 Pangong Lake's sapphire and turquoise hues were jaw dropping, and the reflection of the sunlight on the water mesmerising. One could spend hours contemplating its beauty and still not be satisfied. The lake was beautiful, with colourful, one-of-a-kind rocks that some of us collected to take home as keepsakes or to give to loved ones. We drove back from Pangong Lake reluctantly and with a heavy heart, looking out the windows of our tempos until it was out of sight. The imagery will always be etched in our minds and hearts, leaving a long-lasting impact.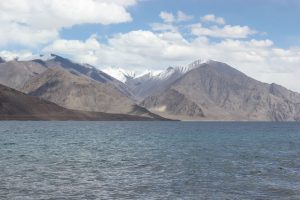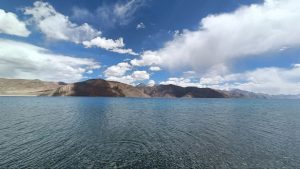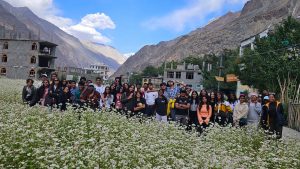 Climate
We received wake-up calls by opening our doors to a burst of freezing cold wind that jolted us awake. Owing to Ladakh's volatile shifts in temperature during wintertime, our jackets came on and off routinely. Ladakh's temperature was cold and the climate was extreme. The sun was  quite bright, yet the cold made  it feel so good on the skin - ideal for sitting with a steaming cup of masala chai while admiring the vista of the Himalayas.
As we got closer to higher altitude, along with light rain,  we were fortunate enough to witness snowflakes, which resulted in our hearts getting warmed and our noses turning red. We had a limited time of 15 minutes at Khardung La (the world's second highest motorable pass) so as to not fall ill from the extreme cold. Here, huddled together, we made convivial memories and forged bonds that won't be severed for a long time. Our visit to Chang La Pass was rather eventful as we got to play with remnants of snow which were scattered in the area.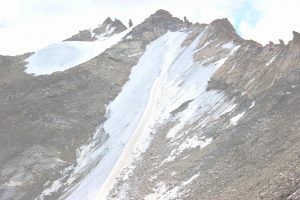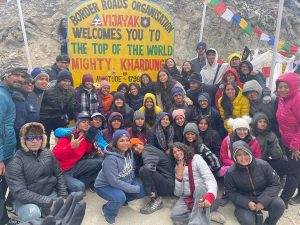 Architecture
Throughout our journey, we came across some incredibly impressive and meticulously designed buildings.
Ladakh's architecture is heavily influenced by Buddhism. The monasteries that are located at the tops of hills are primarily home to this style of architecture. Ladakh's physical geography has had a significant impact on its architectural style. Every building has a flat roof due to its low rainfall. Leh is entirely situated on a slope, and the homes there resemble contemporary step-terrace apartments. We gained additional insight into the history of the house architecture and how class also influences it from a local who led us through a small Leh village. He showed us a roughly 800-year-old building that he was preserving, where the village chief once resided. This house had interesting living and dining rooms. The tour guide outlined the arrangement of the tables, which placed the elderly, visitors, or male head of the family at the head of the table. The remaining seats were filled in chronological order. The lowest class—the household's manual labourers—were assigned the final seats, corresponding to many caste systems ideologies.
Ladakh's monasteries are magnificent. Thiksey Monastery, constructed atop a hill, was one of the monasteries we went to. The contrasting flora surrounding it contrasts sharply with the red and gold buildings with structures composed of a wooden framework, earthen walls, and willow floors. The wall murals and statues are still vivid and immaculate despite their age.
Another impressive example of 17th-century architecture we witnessed was King Sengge Namgyal's nine-storey building, Leh Palace. The finds of remains and prayer chambers inside the palace point to the existence of both religion and government during that time. Its size was magnificent and was very well preserved.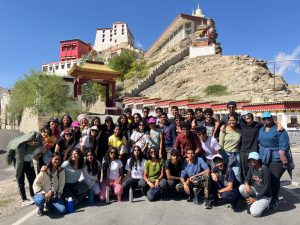 Art
The strong cultural ties between Ladakh and Tibet are reflected in their art. Tibetan artistic traditions have a strong influence on the woodworking, architecture, and Thangka paintings. By means of these artistic forms, Ladakh is linked to both its surrounding regions and the larger Buddhist world.
Buddhism has a big impact on the artistic expression of the Ladakhi people. Traditional Tibetan painting methods, also referred to as Thangka Paintings, are extensively employed in Ladakh. These elaborate, colourful scrolls, which feature various Buddhist deities, religious stories, and mandalas, serve as spiritual meditation tools in addition to being artistic creations. We saw a lot of these when we visited different monasteries.
The intricately carved woodwork is another noteworthy feature of Ladakh's artistic heritage. Talented craftspeople sculpt exquisite designs onto window, door, and furniture frames. The deep respect Ladakhi culture has for both nature and Buddhism is reflected in these elaborate designs.
The vivid textiles of Ladakh are an essential component of its rich artistic legacy. The area is well known for its Pashmina wool, and skilled weavers weave elaborate designs by hand into shawls, stoles, and carpets.
Bonding
While we may interact with our fellow peers and teachers on a daily basis, a long trip brings new colours out of everybody. Delving deep into fresh conversation and intense physical activity, this trip facilitated bonding of an entirely different calibre.
Meeting friends at school isn't the same as taking a 6-hour tempo ride from Leh to Nubra Valley, or standing together at Khardung La Pass; this increased time and space enabled conversation far below surface level, extending beyond conventional friend groups. It fostered our acclimatisation not just with oxygen, but shared living spaces. The demanding terrain caused a lot of us to fall ill over the course of the trip. This hardly hindered our progress; if anything, volunteering to nurse each other back to health brought us closer together. From card games to stargazing rituals, the absence of our cell phones truly gave us a chance to feel the raw emotion of our final trip together, touching our hearts and making their meanings that much more personal.
Connecting with teachers beyond the realm of taking attendance and herding us into classrooms was another experience altogether; being stuck with each other for the duration of our excursion, we got to know more about their unfamiliar sides and personal stories; whether it's the way Aunty likes her Kahwah or Sir prefers his sandwiches. Getting a glimpse into their worlds beyond the confines of school portrayed them in a new light. What didn't change however, was their unyielding efforts at keeping our health in check; the alluring and picturesque scenery of Ladakh is not a daily sight, yet our teachers would give it up in a heartbeat to stay back and make sure those unwell were sipping on ORS.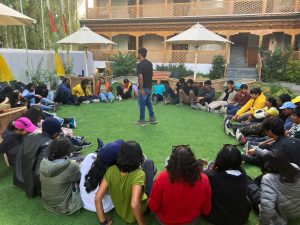 Local people and lifestyle
A field trip isn't a Head Start field trip without the incorporation of an educational aspect, and our trip to Ladakh did just that with a brief but detailed insight into Ladakhi culture and lifestyle. From the very first day, where we learnt the greeting "Julley", we were introduced to a culture that was unique and special in a multitude of ways. We also had the honour of witnessing and partaking in a traditional Ladakhi dance, which was unlike any other art style, and all the more beautiful for its unique sense of rhythm and music.
One of the most evident features was the pure love and respect each person held for their home. It was seen in the way they spoke about Ladakh, with an almost reverent sense of admiration- an emotion that very quickly rubbed off on the rest of us. By the end of our trip, Ladakh had carved a special place in our hearts and made its home there, ensuring the creation of an experience that would never be forgotten.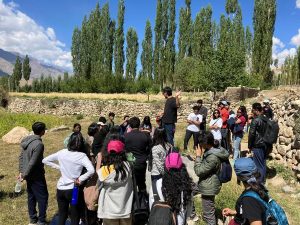 Culture
Culture in Ladakh was evident most in its many beautiful monasteries. We had the pleasure of visiting many such monasteries, including the Alchi Monastery which is thousands of years old, and epitomised the painting and sculpture style which is so unique to Ladakhi culture. The culture was also evident in the architectural style we observed in many of the buildings at Leh.
We also visited a museum at the village of Turtuk, which gave a great insight into the kinds of equipment and clothing the people of Ladakh traditionally used at home. Finally, we were exposed to some wonderful aspects of Leh's culture through a traditional dance and music performance, which we not only watched, but happily joined in.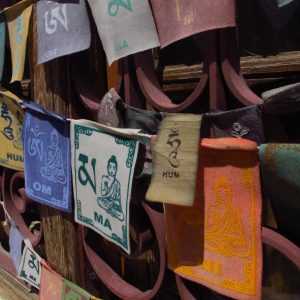 Food
There were quite a few highlights in this aspect. As we all know, nothing beats mountain Maggi, and in this regard Ladakh really lived up to the hype. Sharing delicious Maggi at a local restaurant immediately after the bitter cold of the Khardungla Pass is now a treasured memory amongst us. The last day of our trip also entailed a delicious lunch which fulfilled the cravings we had the entire trip. This included both veg and chicken momos, some delicious noodle soup (thukpa), strawberry ice cream, the local butter tea, and the aromatic Kahwa, all of which helped connect us to Ladakh's culture, and helped bring it to a satisfying, memorable end.
Another treasured part of the food we consumed on the trip was the fruits of Kashmir, in particular, the Ladakhi apples and apricots. They were the sweetest, juiciest fruits most of us had ever eaten. Plucking them from our guide's garden and eating them was one of our favourite memories from this trip. Our final and ultimately favourite food item that trip was of course the Diamox and ORS we all consumed, which will forever remain with us as a memorable part of our long journey.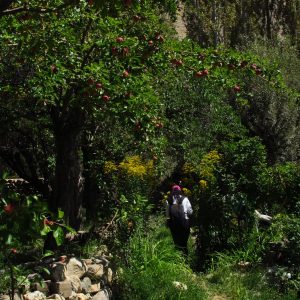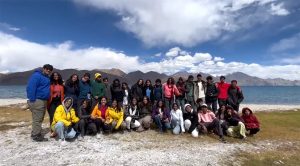 Political climate
At nearly every monument we visited, politics inevitably seeped into the conversation, if only as an undercurrent. This was made most glaring when we visited the India-Pakistan border at Thang Village. As we looked onto the black fence that divided the two nations, a senescent man approached us and told us his story. His family had been ripped apart between the Pharnu Village, the last village of Pakistan, and the Thang Village, the last village of India. While he explained this unfortunate fate, he repeatedly expressed his gratitude towards the Indian army and country as a whole for saving him and taking care of him. The efforts to instil patriotism appeared to be on overdrive at the edges of the country. We even heard 'Jai Hind' being chanted by a group next to us.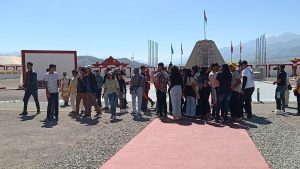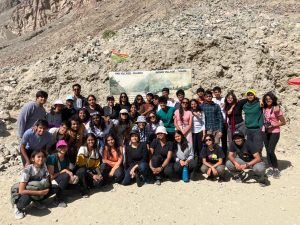 Tourism and economy
Ladakh is undoubtedly a tourist hotspot, with a significant portion of its economy being fuelled by tourism. We witnessed several flocks of both Indian and foreign tourists visiting the region. Naturally, this meant that there were several locations built and maintained specifically for tourists' consumption. In the initial part of our trip, we collectively began to feel as though we were visiting too many quintessentially 'touristy' spots, and were eager to break past the facade and learn about authentic Ladakhi culture. This desire was satisfied when we later changed our itinerary to tour a village in Ladakh, guided by a local who grew up in that village and so could give us insights into the daily lives, agricultural practices and economic activities of the region. In these smaller, less often visited villages, economic activity revolves around rearing livestock and growing crops in subsistence farms. We were also fascinated by the egalitarian system for distributing water and how the locals shrewdly adapted their practices according to seasons as Ladakh faced extreme weather conditions.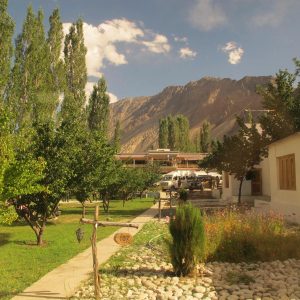 Travelling: flights
The idea of a field trip only seemed to properly set in the second we stepped foot into the airport. The excitement was palpable, despite most of us being half asleep and leaning on our suitcases. Security checks and waiting in queues - processes that would normally be boring at airports suddenly become far more interesting when surrounded by our friends and classmates. And memories on the flight itself can never be forgotten.
45 minutes before we began our descent to arrive in Leh, we were entranced by snow-capped mountains, streams of water, and a calm sky, leaning on each other so as to not miss our first encounter with Leh's colossal mountain range. This sight made us eagerly anticipate what we would be met with with our arrival in Leh. It served as the perfect introduction to our trip.
Travelling: tempos
Our primary mode of transportation was the tempo. One tempo for every eight of us meant that some of us sang along to Taylor Swift at the top of our lungs (when we had reception) while others tuned in to Ladakhi radio. Some of our local guides and drivers were able to tell us and show us things about the place- the people and flora and fauna that we otherwise would have missed. We learned quite a bit about Ladakh this way.
Our conversations were about anything and everything. Some were deep and meaningful; others were to pass the time. A game of Othello and decks of cards made their rounds and when we weren't talking, we were playing. Oreos, apricots, packets of Uncle Chips and juice boxes were handed out to ensure we were well-fed between meals and our bottles still retain the faint traces of ORS we cooked up in them. Motion sickness, unfortunately, was a recurring theme on our journey and for those of us afflicted, Avomine, sleep or the occasional stop for a breath of fresh air tended to be our best bet.
Tempo-travelling was chaotic yet enjoyable, and huddled together in our little groups, we, both literally and figuratively, had never felt closer to each other.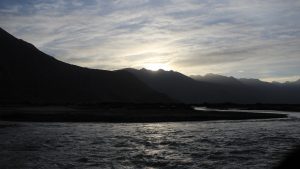 Conclusion
Coming to the end of this write-up, much like the trip, prompts bittersweet feelings. Our journey was arduous, owing to both its terrain as well as nostalgic value. While certain things seemed bothersome at times, like the appearance of paneer at every restaurant establishment, in hindsight, it will all be missed. Memories made are those we will cherish, carry with us and draw strength from as we journey forward.
Exploring such an uneven topography tested not just our physical strength but our character, and resulted in us putting our trust in each other in more ways than one. We left with suitcases loaded with warm clothing, and returned with a bottomless pit of stories that will be told for years to come. A pit so efficacious, that it will now be the abstract souvenir constantly connecting all of us no matter where in the world we end up.
This grand tapestry of our one final Head Start expedition to Leh Ladakh is woven together with the threads of sentimentality, gratitude, and most importantly, family.
Signing off (with love),
Head Start Educational Academy, Grade 12, Class of 2024